Crisis well managed
The international health crisis shaped the business year of Swiss Transfusion SRC. Even during the Covid-19 pandemic, we were able to secure the supply of blood products to patients in Switzerland and continue providing all of our services in the blood stem cell area. Three factors proved to be decisive in this respect:
The absolute priority of safety: In Switzerland, it remained possible to donate blood and to perform confirmatory typing procedures for potential blood stem cell donors throughout 2020. Strict safety regulations, which we continually reviewed, made this possible. Blood donors demonstrated their solidarity with patients even in the difficult circumstances associated with the Covid-19 pandemic. To them, we owe a great debt of gratitude.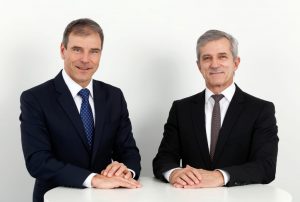 Dr. Bernhard Wegmüller, Managing Director and CEO, and Prof. Dr. med. Thomas Zeltner, President of the Board of Directors Swiss Transfusion SRC
National and international networking: The intensive and coordinated collaboration between Swiss Transfusion SRC and the regional blood transfusion services ensured the national supply of blood products in 2020. In the area of blood stem cell donation, we relied heavily on an international network of registries, hospitals and transport organisations, especially in conjunction with our cross-border services.
Digital services: Digital tools suddenly became a key factor for success in 2020. The pandemic transformed our existing digital services into an indispensable pillar for our activities, the online registration of blood stem cell donors being a case in point. Continuing to develop and improve digital tools is one focus of Swiss Transfusion SRC's new strategy, which was approved by the Board of Directors in 2020.
"The right donation for every patient" – once again, our vision kept us on course in 2020. We already hold a mandate from the Swiss government to pursue this course in the area of blood stem cell donation, and we are hopeful that the political domain will smooth the way forwards along the same path in the blood supply area in 2021.
Prof. Dr. med. Thomas Zeltner
President of the Board of Directors
Swiss Transfusion SRC
Dr. Bernhard Wegmüller
CEO and Chairman of the Management Board
Swiss Transfusion SRC
Donors demonstrated their great solidarity with patients even in the midst of the Covid-19 pandemic

Dr. Bernhard Wegmüller
Travelcheck
Online tool indicating how soon a person can donate
Learn more »
Donating blood is safe –
even during the coronavirus pandemic
Learn more »
266'161 blood donations
for a reliable blood supply
Learn more »
HIGHLIGHTS
Eye-catching
Poster campaign raises awareness throughout Switzerland
Learn more »
2020
CHF 1'387'584
in donations to support the blood stem cell registry
Learn more »